NO other camp in all of Black Rock City packs this MUCH interactivity or diversity in one place. We believe in INTERACTIVITY for ALL. You won't find a "fortress wall" of RV's in our camp. We UTILIZE all of our street frontage for the good of the city! Centrally located within the placed THEME camp zone, you'll have easy and welcome access to our other satellite camps, Orphans Too and Li'l Orphan Annex.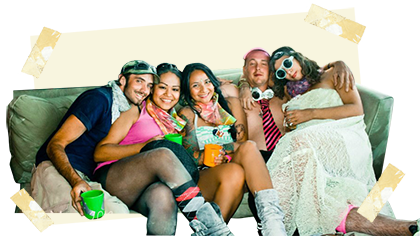 Our activities are open to all participants, come visit Orphan Endorphin to experience:
"FRANK" the magic transvestite goat. Frank is a living legend, and spreads good luck across the playa every year through big testicle magic. Frank is cared for and protected by our Mother of Goats.

THE ORPHANAGE BREWERY & BAR will be gifting over 400 gallons of fine beers and ciders from microbreweries and hand-crafted award winning homebrewers. We will also be brewing beer on-playa this year. All served at the perfect temperature from our kegerators and freezers. The Orphanage Bar features a full-sized shaded patio bar with bar seating and lounge sofas.


DADDY WARBUCK's CIGAR LOUNGE
Over 500 different classic cigars, chosen by our very own aficionado, Captain Ron.


CAPTAIN RON's FISHING SHACK & HOIST
Fish and snare the dirty Hippies and Sparkle Ponies, and hang your catch upside-down from the Hoist for the ultimate humiliation.


Swinging Dicks Bowling Pit
Pick your dildo, don your pantyhose (on your head), and try your best to knock over the pins in our ridiculous bowling game!


LOVE ME NOW CONDOM DISPENSARY Safe sex is sexy! We want to help you make good decisions when you meet that special someone, or group of someones, on one of those crazy nights on the playa. Grab a couple of condoms from our box, put them in your backpack. Embrace immediacy that doesn't compromise your health. We have gifted over 11,000 of condoms since 2012.

RELATIONSHIP ADVICE Join us for fun relationship chats with our panel of experts including dating, newly-wed and long-time married couples. Single or involved, bring us your inquiry and we will do our best to offer sympathetic advice from our personal experience.